Our values
Personnel – Experienced sailing personnel and professional team are our main values;
Environment – Our aim is to minimize the impact on the environment throughout all aspects of our activities;
Safety – We continually focus on establishing a safe working environment, providing high-quality services and preventing risks;
Quality service – As Azerbaijan Caspian Shipping Company we guarantee high-quality cargo transportation and diverse specialized offshore services based on our rich experience;
Sustainable development – As a shipping company with effective management, we pursue sustainable development in all aspects of our business to provide valueadded services to our clients.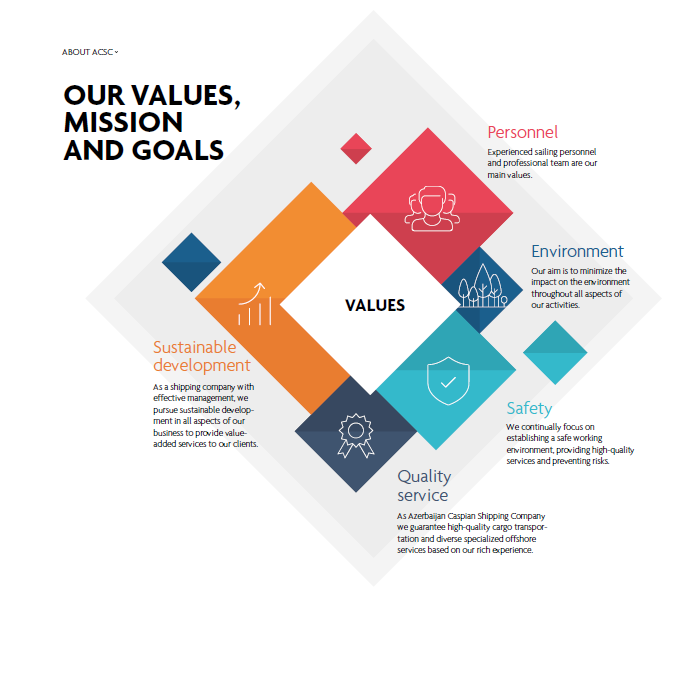 Our mission:
To support harmonious and continuous flow of international cargo and contribute to Azerbaijan's regional transportation hub strategy.
Vision:
To maintain the leading position in the Caspian Sea and expand operations beyond the Caspian Sea.
Slogan:
"Your shortest bridge between Europe and Asia"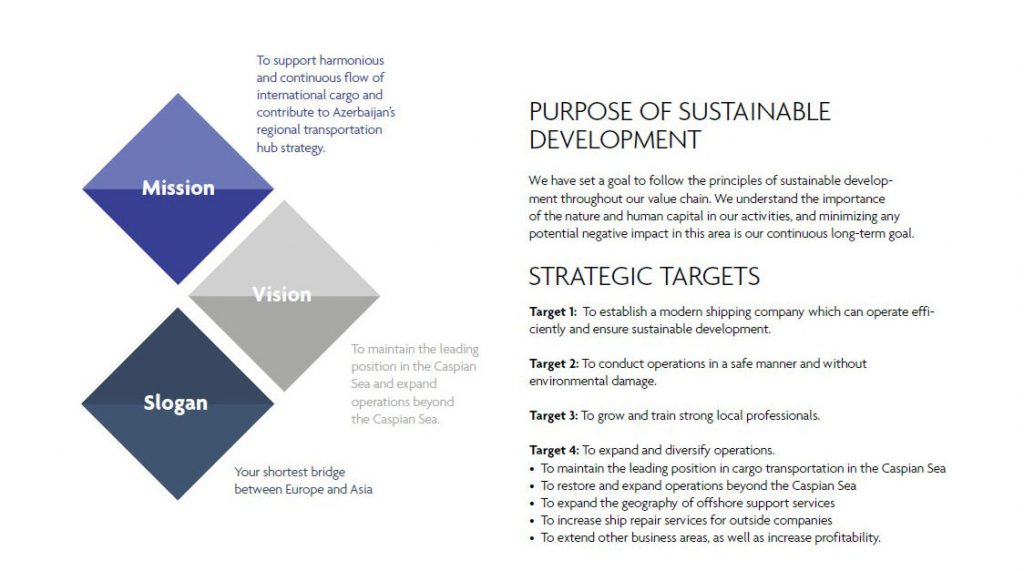 Strategic targets and goals
Target 1: To establish a modern shipping company which can operate efficiently and ensure sustainable development.
Goal 1.1: Continious enhancement of centralized corporate governance system;
Goal 1.2: Implementation of necessary software for effective management;
Goal 1.3: International certification on shipping activity and implementation of leading international experience;
Goal 1.4: Optimization of costs, structure and operations and ensuring efficiency;
Goal 1.5: Transformation to efficiently operating commercial organization that brings dividends to its shareholder;
Goal 1.6: Ensure transparency in Company's operations.
Target 2: To conduct operations in a safe manner and without harm on environment.
Goal 2.1: Development of QHSE services;
Goal 2.2: Inrease awareness of personnel about QHSE standards' requirements;
Goal 2.3: Organization of environmental protection procedures in accordance with international environmental management standards' requirements, in order to prevent pollution to sea and land.
Target 3: To grow and train strong local professionals.
Goal 3.1: Developing strong local seafarer staff and promotion of seafarer profession in the country;
Goal 3.2: Continious development of personnel's professionalism and improvement of their welfare.
Target 4: To expand and diversify business operations.
To maintain the leading position in cargo transportation in the Caspian Sea;
To expand operations beyond the Caspian Sea;
To expand the geography of offshore support services;
To increase ship repair services 3

rd

parties;
To extend other business areas and increase their profitability.